What is a skills assessment
A skills assessment is a survey or interview measuring skill and knowledge. We recommend a 1-5 Likert scale where 1 is emerging, and 5 is mastery. Skill assessment reports help leaders visualize who knows what and identifies gaps where training may be needed to maximize the growth and potential of the individual.
Why skill assessments matter
Skill Assessments are an ideal way to collect data to inform and guide training investments. Addressing skill gaps helps the organization but also energizes the staff who can better meet the demands of their work. Benefits include a more capable, energized and productive staff. Skill gaps found in many people may be hurting your organizational morale and performance.
How to do a skill assessment
There is a simple four-step process to running a successful skills assessment:
Inventory the skills to be measured – These can vary by role, and they're in your job descriptions. Ideally, you'd interview a few top performers to confirm that your list matches what they do for you.
Communicate your positive intentions – State your purpose to help staff build plans to close skill gaps. Encourage honest responses. Gain trust by assuring them that results are confidential and will be used to help them.
Collect the data – One on ones, spreadsheets, and survey tools can be used to collect the data from your team members. Make sure someone is available to answer questions that may arise.
Analyze the data – There is a great value to be leveraged from one-on-one coaching discussions based on the data. Looking at trends in departments and locations can help prioritize training investments, staff augmentation, and hiring plans.
If you'd like to learn more about skills assessments, please get our free ebook and reach out to our team. Our technology was purpose-built to automate the skill assessment process and includes valuable reports to analyze the data. We can also automate a learning path uniquely designed for each person based on the gaps found in their assessment.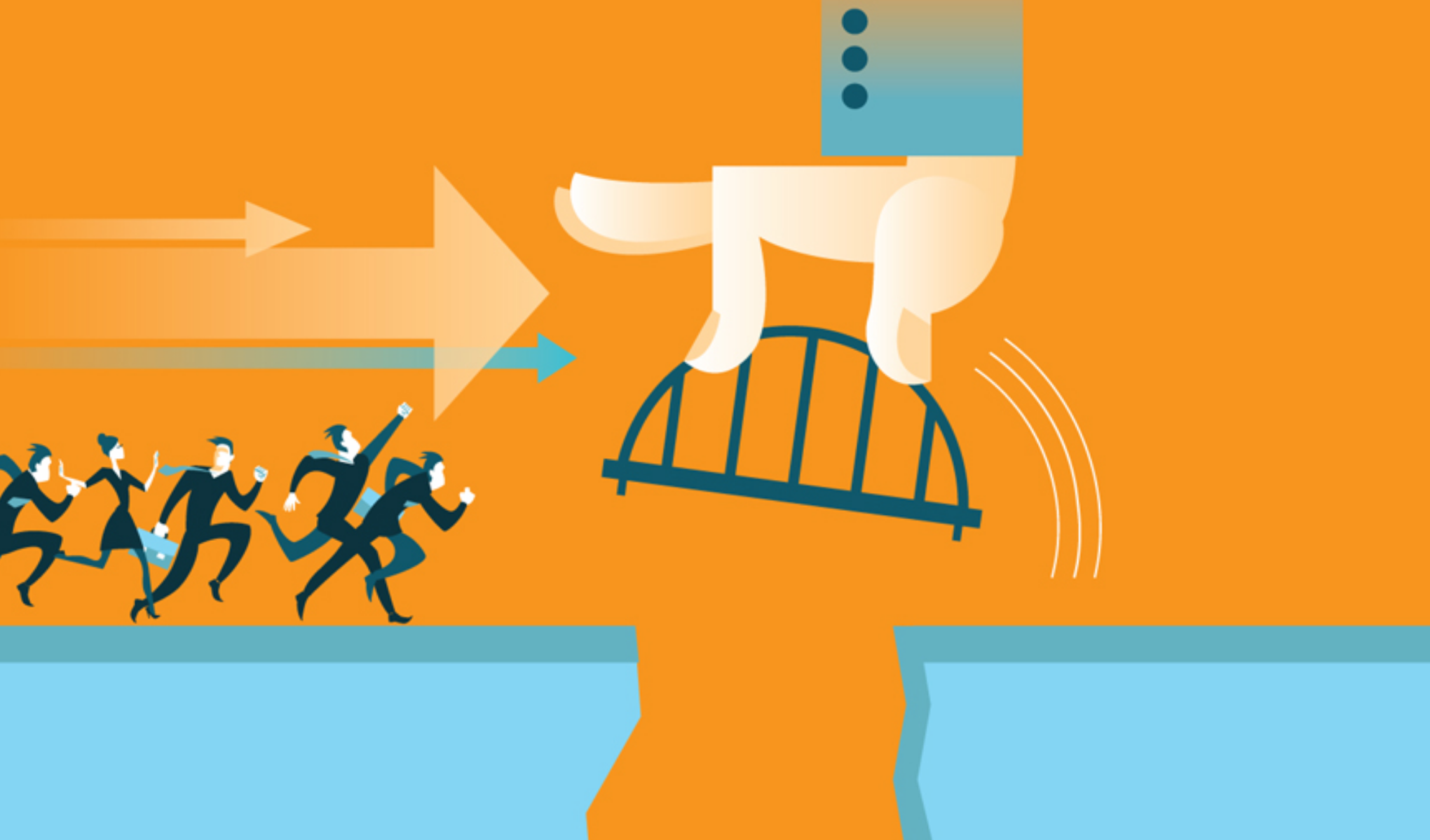 According to a recent study from CareerBuilder, skills gaps cost a company more than $800,000 per year. For clarity, the skills gap is commonly referred to as the frustrating rift between what candidates have to offer and what companies are looking for. This leads to perpetually-open jobs and frustrated candidates at a minimum, but it can also contribute to reduced productivity, higher turnover, and revenue loss. The research points out that companies are having trouble finding the right people to fill positions, and it's an issue regardless of company size:
1-50 employees: 49 percent
51-250 employees: 74 percent
251-500 employees: 72 percent
501+ employees: 71 percent
The problem has been around for quite some time, and at a macro level, it's not going away anytime soon. On a company-specific level, there are activities that can help employers to not only understand their own skills gap, but to start filling it with internal and external talent.
Companies Aren't Skills-Savvy
Even the discussion about a skills gap is somewhat misplaced, because these employers are focusing on jobs they can't fill, not specific skill sets. And while we don't advocate looking at employees purely as a set of skills under a biological disguise, it's important to get comfortable with acknowledging what skills exist and how to leverage them. This focus on skills needs to be woven throughout the company's talent practices:
Assessments: are you evaluating a generic set of criteria on each candidate, or are you examining the critical skills necessary for success in each role?
Selection: are your selection processes geared toward "gut instinct," or hard skills measurements
Training: are you putting together yet another low-impact PowerPoint presentation, or are you seeking ways to develop the skills that create business value?
Recognition: are there processes in place to track progress and make employees feel that their efforts to acquire and demonstrate skills are recognized appropriately?
These and other talent practices can help employers to be more skills-savvy, adopting a mindset that skills are not only inherently valuable, but also a core element in a good talent management strategy.
Combating the Skills Gap
Quickly–what are the top three skills that matter the most to your business? Is it a specific sales discipline? Maybe it's a consulting methodology. Or what about a technical coding skill?
To be fair, most business leaders would have trouble answering that question, because we're not used to thinking in terms of discrete skills that our people have. At the same time, in the CareerBuilder study, nearly six out of ten workers said that they wanted to learn a new skill but couldn't afford to. Our workers think about the skills side of the equation, but it isn't a common boardroom discussion. There are three key areas that need attention to fix this gap:
Peter Drucker said that what gets measured gets done, so if the problem truly is a gap in the skills that we have and what we need, then firms need to start measuring the skills inventory as a way to identify hotspots and other areas of improvement.
Companies must get better about skill development. The number one reason people leave their jobs, according to Gallup, is because they want a chance to grow or develop professionally. Providing relevant development resources will reduce your turnover.
Get clear on what skills drive business value. For some organizations, it's going to be in how they consult with clients. For others, the skills that matter will be related to technology and software. Each firm is different, but understanding which skills drive business value is necessary in order to get buy-in from leadership to conquer your own skills gap.Organizations must get better about measuring, developing and tracking employee skills. Think about finding and fixing skill gaps. It's a challenge, and it requires different thinking, yet every day high-performance employers are making strides toward success in this area. As we have pointed out, the value goes beyond the boundaries of talent and HR, extending to business areas like revenue, productivity, and performance.
P.S. To get a free personalized skill gap assessment click here.
https://skillnet.net/wp-content/uploads/2017/06/skill-gap.png
1199
2040
mkritzman
https://940.d93.myftpupload.com/wp-content/uploads/2019/03/skillnet-2-300x92.png
mkritzman
2017-06-22 17:09:10
2019-12-22 03:29:51
What Is The Skill Gap Costing You?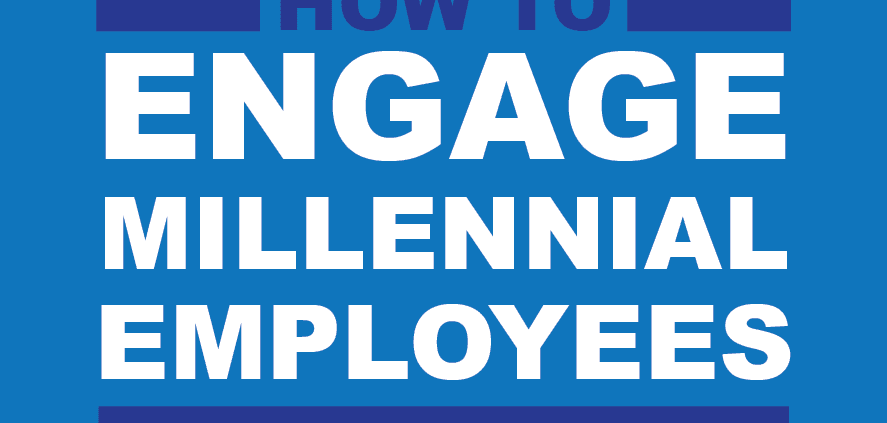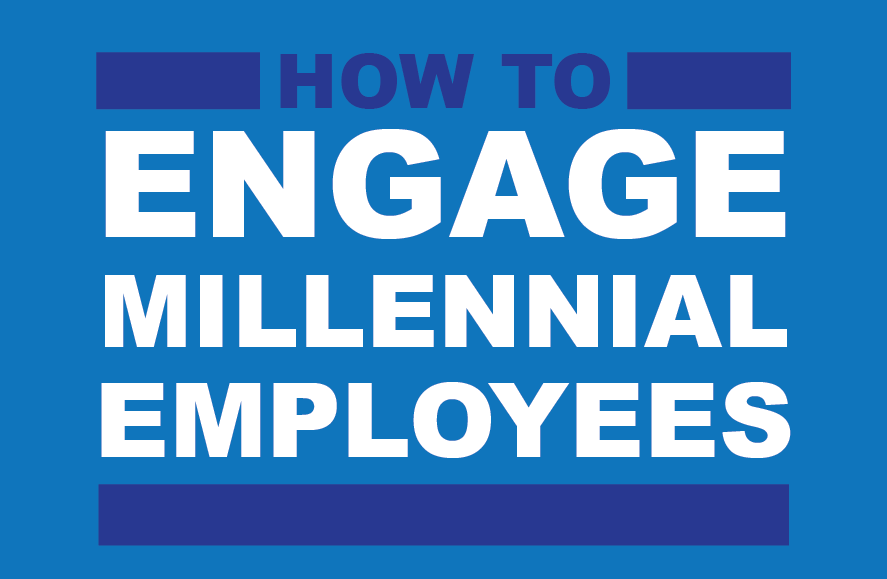 The average millennial tenure is only two years. The average cost to replace is $24,000 not to mention the down time. With stats like these it's important to have a proactive strategy to increase retention.
Millennials are different kind of talent. They grew up with chat rooms and Twitter. Engaging and retaining Millennials is more important than ever because they are now the largest segment of the US workforce. By 2025 they're expected to be over 75%. This generation wants changes from employers in a variety of meaningful ways and they're quick to leave if things don't feel right.
3 ways to retain and engage millennial employees:
1)  Provide Frequent Feedback
In a recent study, 85% of millennials reported they want more feedback from their managers and 74% don't know what their manager thinks of them. This sentiment aligns with the recent moves by companies like IBM, Accenture, GE & Deloitte to move away from the annual performance review to frequent coaching models.  Millennials grew up in a world of instant communication and feedback. They expect the same from their workplace.
Managers have a great opportunity to satisfy millennial cravings with performance data and frequent informal conversations about their development.  Managers can use this data to coach staff through roadblocks and help them attain goals.  Frequent feedback is the most important key to engage millennial employees.
2)  Empower Through Development
Millennials are the most educated generation with over 57% holding a four year degree.  Education and personal development is a high priority to this generation. 35% of millennials report being attracted to a company based on learning opportunities. Successful companies use competency based models to measure skill gaps with assessments.  This gives employees a clear pathway to skill development which in turn engages the employee while increasing performance.
3)  Leverage Technology
Millennials were raised with chat rooms, Twitter and Facebook. They check their smart phone 45 times a day looking for updates from their connections. This generation welcomes using technology to gather and track performance metrics. Allow employees to update their skill profile with each learning event.  Provide a way for them to monitor and be recognized for their progress.   Give them the ability to receive weekly feedback and individualized learning plans.  Leveraging technology will save companies time and deliver information the way millennials want it, at their fingertips.
The millennial generation has arrived in force with unique technology skills. Meeting them where they are can position your company for success.  Engagement and access to online resources has never been more important.
The Millennial Employee Infographic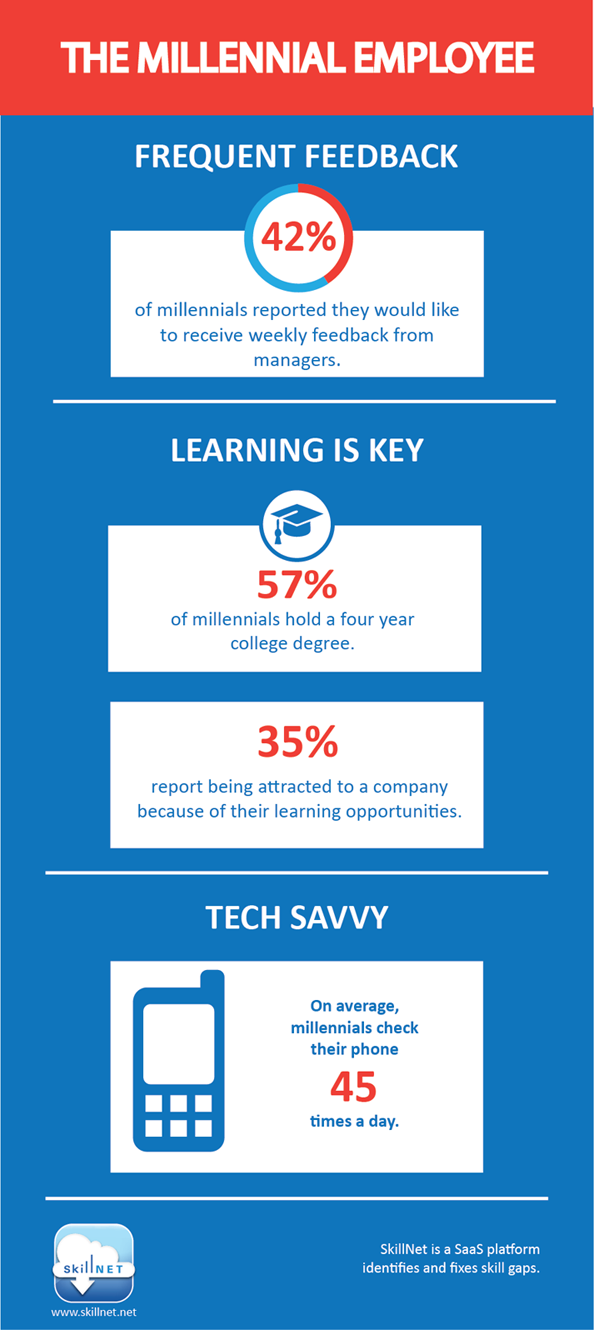 Check out SkillNet's latest eBook, Improve Performance with Individual Development Plans.
Are your employees operating at peak performance? Find out how SkillNet can help upskill your employees and increase performance and retention.
https://skillnet.net/wp-content/uploads/2016/03/HOW-TO-ENGAGE-EMPLOYEES.png
579
887
mkritzman
https://940.d93.myftpupload.com/wp-content/uploads/2019/03/skillnet-2-300x92.png
mkritzman
2016-03-01 19:50:20
2019-01-17 01:46:08
3 Step Guide to Engage Millennial Employees

We've all been there New in a role with high performance expectations, limited time to make an impact, and with extremely limited knowledge about team capabilities – competencies and skills, strengths, weaknesses, track record, style, etc. In the past, when companies were centrally located, the task of gathering data on employees was much easier than […]
https://skillnet.net/wp-content/uploads/2019/05/qtq80-uFw0up.jpeg
837
1254
mkritzman
https://940.d93.myftpupload.com/wp-content/uploads/2019/03/skillnet-2-300x92.png
mkritzman
2015-12-17 16:02:29
2019-12-22 03:48:59
The New CIO